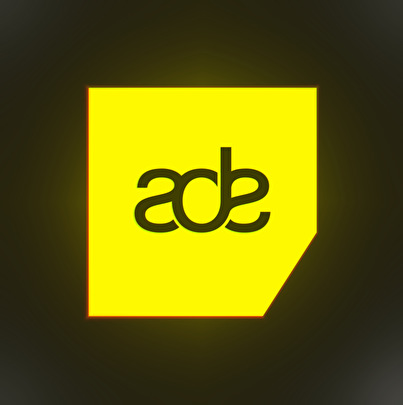 Site
amsterdam-dance-event.nl
E-mail
info@amsterdam-dance-event.nl
Adres
Amsterdam


Nederland

Oprichting
1996
Aanwezigheid
Informatie
ADE
Festival
The ADE Festival features 300 events and 2,000 DJ's over five days in 80 clubs and venues, which together combine to make Amsterdam one of the busiest and most inspiring clubbing cities in the world. The program features the biggest artists on the planet alongside fresh, upcoming talent and everything in between. Every year the ADE Festival attracts 300,000 festival visitors from around the globe and is truly the biggest international club festival covering the whole spectrum of electronic sub-genres.
Playground
ADE Playground can be found anywhere and everywhere in the city centre during the ADE. It is a unique, dance-related lifestyle program offering five days of film screenings, music hardware presentations, art shows and exhibitions, exclusive fashion offers, interactive talk shows, promotional activities and pop-up musical performances at 25 creative hotspots around the city, including roof-top terraces, clothing shops, and art galleries, as well as outdoor exhibitions and cinemas.
Conference
ADE's multiple conference streams connect the worldwide music industry, offering the ultimate annual business and inspiration platform in the field of electronic music. Divided into seven themed programs, ADE's comprehensive conference covers every aspect of the modern music industry, featuring dedicated programming for business professionals, start-ups, aspiring producers and musicians, international students, VJs, visual artists and stage designers. The programs also feature in-depth expertise and insight into the harder music genres, the relationship between music and technology, and sustainable, ecologically responsible practices for the global dance music industry.
Uitgaansagenda Amsterdam Dance Event
Oliver Heldens

(uitgesteld)
9

Melkweg
Amsterdam
Oliver Heldens

A night with bitbird

(uitgesteld)
2

Melkweg
Amsterdam

Leon Vynehall

(uitgesteld)

Paradiso
Amsterdam
Arp Frique, Dragonfruit, Leon Vynehall, Sarah Jane, Yannick Hiwat Quintet
Monstercat ·

Showcase

(uitgesteld)
1

Melkweg
Amsterdam

ADE × Indiestad

(uitgesteld)

Paradiso
Amsterdam
Multani

Dave Clarke

(uitgesteld)

Melkweg
Amsterdam
Black Lotus, Blawan, Dave Clarke, Freddy K, Louisahhh, Mirella Kroes, Ø [Phase], ROD, Shinedoe, Stingray, Surgeon
Open To Close ·

Markus Schulz

(uitgesteld)
45

Melkweg
Amsterdam
Markus Schulz

eergisteren, uitgaan op

64

tonen

Afro Bros & Friends

AIR
Amsterdam
Afro Bros, Chaos, Djibril Cissé, Grummel, Johnny 500, Kevin Key, Ricky Savado, Rugged, Sam Blans, Sleazy Stereo, Stiekz, Team Rush Hour, Tribal Kush

Audio Obscura

1

A'dam The Loft
Amsterdam
Ki/Ki, TITIA

Audio Obscura

13

RAW Factory
Amsterdam
ANNA, Chris Liebing, Dax J, Deniro, Dr. Rubinstein, Planetary Assault Systems, Rødhåd
Awakenings ·

Ellum

45

Ziggo Dome
Amsterdam
Ellen Allien, Enrico Sangiuliano, Len Faki, Maceo Plex, Madben, Pan-Pot
Awakenings ·

Spectrum

37

Westergasfabriek, Gashouder
Amsterdam
Joris Voorn, Joseph Capriati, La Fleur, Michel de Hey, Stephan Bodzin

Bills Bills Bills × FOUR

Supperclub
Amsterdam
Black Codes Experiments ·

Label Showcase

Suzy Wong
Amsterdam
Cristian Varela (nog niet compleet)

Breakfast Club

7

RADION
Amsterdam
Black Cadmium, Caim, Craig Richards, De Lichting, Dustin, Eris Drew, Evan Baggs, John Talabot, Nicolás Lutz, Octo Octa, Ogazón, Pieter Jansen
Chocolate Puma ·

A Journey Through House

(uitgesteld)
1

Melkweg
Amsterdam
Chocolate Puma

Circoloco × Loveland

17

Mediahaven
Amsterdam
Adiel, Carl Craig, La La, Luciano, Mella Dee, ONYVAA, Sandrien, Seth Troxler, Skream, Sossa, Syreeta, Tennis, The Martinez Brothers, Willow

Clone

Radio Radio
Amsterdam
Afra, Casa Voyager, Serge
Cloud 8 × Ziongate ·

Tribes

2
3

Paradiso
Amsterdam
Arnold Arakaza, Buruntuma, Cincity, Culoe De Song, DBN Gogo, Jerrausama, Joenes, Lag, Major League Djz, Oishi, Scratcha Dva, WaxFiend

DGTL

6

NDSM Bunker
Amsterdam
David Vunk, Dixon, Fafi Abdel Nour, Jayda G, Mano le Tough, Motor City Drum Ensemble, Paramida, Philou Louzolo, Suze Ijó, The Blessed Madonna

Dockyard Festival

849

Havenpark
Amsterdam
Adana Twins, Alan Fitzpatrick, Anil Aras, BEC, Ben Klock, Ben Sims, Benny Rodrigues, Bilal Wahib, Black Girl / White Girl, Bone, Boris Werner, DiVine, Eelke Kleijn, Egbert, Franky Rizardo, Hitmasjien, Hollt, Jasha Rudge, Jody Bernal, Joran van Pol,

en nog 28 andere artiesten →

Joren Edwards, Joyhauser, JSPR, Julian Anthony, Julian Jeweil, Karenn, Kevin de Vries, Kids By Nature, Len Faki, Luigi Madonna, Matador, Metodi Hristov, Mister NiceKai, Monika Kruse, Mr. Deenus, Patrice Bäumel, Pleasurekraft, Prunk, Ramon Tapia, Roberto Capuano, ROD, Rødhåd, Sam Paganini, Samuel Deep, Sandrien, Secret Cinema, Tinlicker, WILLIAM
elrow ·

Growenlandia

14

Kromhouthal
Amsterdam

verdeeld over alle dagen

: Bastian Bux, De La Swing, Franky Rizardo, Ilario Alicante, Mason Collective, Mia More, Richy Ahmed, Rossko, Shermanology, Solardo, Sonny Fodera, Tini Gessler, wAFF

Encore

Melkweg
Amsterdam
Abstract, DamianAndy, Irwan, Jahwin, Lee Millz, Prime

French 79

1

Melkweg
Amsterdam
French 79

Friendzone

Oliva
Amsterdam
Brooxx, FLAVA, Hardtog, Jereno Joël, Lee Millah, Ramon Rivé

Fuego

Bitterzoet
Amsterdam
Aguisto, Aiscream, Claudio, Djoevenile, Nikky Adriana, Noëall
GORDO ·

ADE 2021 Special

Club Maia
Amsterdam
G-Eazy

Happy Feelings

2

IJland
Amsterdam
A Bunch of Guys, BacktoBasics, Guilty, M-High, The Happy Feelings
Heist Recordings ·

ADE Showcase

Lovelee
Amsterdam
Cinthie, Dam Swindle, Makèz, Nedda Sou
Hernan Cattaneo b2b Nick Warren ·

All day long

8

Amsterdam
Alex O'Rion, C-Jay, Donaes, Hernán Cattáneo, Nick Varon, Nick Warren, VALA

Honey

Club Up
Amsterdam
Abstract, Dieux Pére, Goldenboys, Jahwin, Jamey Trevor, Jeftuz, Julian Jermain, Kaiico, Kevin Kofii, Kinnari, LPACA, Mitchell Yard, Nala, Nash, Pasquinel, PSCL, Vertigo, Washington
I Am Hardstyle ·

20 Years Brennan Heart

10

Q-Factory
Amsterdam
Brennan Heart
Ibadan ·

Badlands

W Amsterdam
Amsterdam
Fred P. aka Black Jazz Consortium, Janne Tavi, Robert Owens
InDeep'n'Dance ·

Meet & Greet

InDeep'n'Dance
Amsterdam
Dexon
Intercell ·

SNTS Invites

7

H7 Warehouse
Amsterdam
999999999, AIROD, Alignment, Minimal Violence, SNTS, Tommy Holohan

Into the Woods

94

NDSM-Werf
Amsterdam
Albert van Abbe, Alexia Glensy, Animistic Beliefs, Arapu, Bastienne, Bjarki, Brass Rave Unit, Brawther, Children of Valis, Claire Morgan, Eclair Fifi, Forest Drive West, Franca, Gesloten Cirkel, Goodthingman, Guan, Identified Patient, Iris Menza, Jamie 3:26, Jasmín,

en nog 30 andere artiesten →

John Talabot, Kamma, KAUW, Kreutziger, Locklead, Lucky Done Gone, Mahabe137, Mandana, Margie, Marrøn, Masalo, Mimi Love, Molly, Mr. Scruff, Noëall, Octo Octa, Oscar Mulero, Philipp Fein, Pushin Wood, Rico, Rossi., Soundstream, Tempist, The Sorry Entertainer, Three Little Clouds, TITIA, Traumer, Van Anh, WaxFiend, YIN YIN

Joey × Manuel

Club Maia
Amsterdam
Joey x Manuel (nog niet compleet)

Jângäl

Jimmy Woo
Amsterdam
Dose Sampu, JAEL, Jarreau Vandal, Kinnari, Nevsdeboi, Paper Citizens

Kompakt

2

De Marktkantine
Amsterdam
Denis Stockhausen, Gui Boratto, Jonathan Kaspar, Konstantin Sibold, Nicky Elisabeth, Patrice Bäumel, Ramses, Robag Wruhme, WhoMadeWho

Korsakov

2

Club NYX
Amsterdam
Audio, Blobby, Culture Shock, CVDP, Distune, Flakes, Ibbenz, Innate, Jannov, Karimooo, Korsakov, Levela, Metrik, Mind Theory, Noisia, Slackview

Kraak & Smaak

Melkweg
Amsterdam
Kraak & Smaak

Kris Kross

Chin Chin Club
Amsterdam
Kris Kross Amsterdam
Loveland ·

Solomun All Night

9

Warehouse Houthavens
Amsterdam
Solomun

Mainframe

22:00 - 01:00

Bar The Web
Amsterdam
David Ohana Aviance, John Spinosa, Midnight Society, Sagia

MOOD

Veronicaschip
Amsterdam
Caim, Jaime Frias, Joris Zwetsloot, Tommie Hansen

Music That Moves

2

Paradiso
Amsterdam
Elisa Batti, Hemka, Shinedoe
Musical Freedom & Friends ·

Showcase

1

Nova
Amsterdam
KREAM (nog niet compleet)

Mystic Garden Festival

780

Havenpark
Amsterdam
Adana Twins, Alan Fitzpatrick, Anil Aras, BEC, Ben Klock, Ben Sims, Benny Rodrigues, Bilal Wahib, Black Girl / White Girl, Bone, Boris Werner, DiVine, Eelke Kleijn, Egbert, Franky Rizardo, Hitmasjien, Hollt, Jasha Rudge, Jody Bernal, Joran van Pol,

en nog 29 andere artiesten →

Joren Edwards, Joyhauser, JSPR, Julian Anthony, Julian Jeweil, Karenn, Kevin de Vries, Kids By Nature, Len Faki, Luigi Madonna, Matador, Metodi Hristov, Mister NiceKai, Monika Kruse, Mr. Deenus, Mystery Guest, Patrice Bäumel, Pleasurekraft, Prunk, Ramon Tapia, Roberto Capuano, ROD, Rødhåd, Sam Paganini, Samuel Deep, Sandrien, Secret Cinema, Tinlicker, WILLIAM

One Love Tribute to Paul Johnson

YOLO
Amsterdam
Alex Pi, Fadoua Mae, K'Alexi Shelby, Lucien Foort, Microdot, Pierre, Riva Starr, Rulex

Party In Paradise #18

Paradise Bar
Amsterdam
Mano, Melon, Zender

Paul Kalkbrenner

21

AFAS Live
Amsterdam
Paul Kalkbrenner

Rush Hour

1

Lofi
Amsterdam
Antal, Arp Frique, Hunee, Kléo, Soichi Terada

Secret Project Festival

90

Hemburgterrein
Zaandam
ADIN, Âme, Andhim, Anfisa Letyago, Avalon Emerson, Ben Böhmer, Ben Klock, Ben UFO, Boris Brejcha, CamelPhat, Chris Liebing, Collé, Damian Lazarus, Deeparture, Dennes Deen, HAAi, Hamm3R, Honey Dijon, Jeff Mills, Lieke Trienekens,

en nog 13 andere artiesten →

Loco Dice, Marcel Dettmann, Marco Carola, Mees Salomé, Milion, Mind Against, Olivier Weiter, Rose Ringed, Sama', Sita Abellan, Tierap, Trikk, VNTM

Silver Moon × NDSM Sessions

14:00 - 00:00

10

NDSM Studio
Amsterdam
Axel Doorman, George Andrew, Julian Ruiz, Lawsuit, Man With No Shadow, Oliver Kucera, Olivia Jones, Sophie de Bruin, Sous Dubois, Wietze Young
SlapFunk ·

The Gathering

Shelter
Amsterdam
Gene On Earth, Samuel Deep, Sanja, Sweely, The Ghost
Sono ·

Label Night

7

Escape Club
Amsterdam
Sunnery James & Ryan Marciano (nog niet compleet)

Soulful Techno & Click Records

Kaap Oost
Amsterdam
Arjuna Schiks, Gabriel Ananda, Lake Avalon, Stefano Richetta, Steve Slight
STOOR ·

Speedy J

17

Paradiso
Amsterdam
Colin Benders, Lady Starlight, Speedy J, Sterac, Surgeon
Sébastien Léger ·

Modular Live × Loveland

4

United Studio's Mediahaven
Amsterdam
Launa Fen, Sébastien Léger (nog niet compleet)
The Seekers of Light ·

ADE Weekender

10

WesterUnie
Amsterdam
Arc, Chambord, Deer Jade, Elif, Eva Kaczor, Fiona Jane, Jan Blomqvist, Joep Mencke, Loewenthal, Madmotormiquel, Madota, Mimi Love, Mira & Chris, Mona Pirzad, Renee Opsedee, Rico Loop, Sagan, Temple Tears, Vander

This Is Trance

83

Panama
Amsterdam
Aly & Fila, Bryan Kearney, Exolight, Factor B, John O'Callaghan, Manuel Le Saux, Paul Thomas, Road Kahan, Suncatcher, The Thrillseekers

Thuishaven

13

Thuishaven
Amsterdam
Bart Skils, De Sluwe Vos, Doudou MD, Fadi Mohem, Karotte, Lewski, Luna Ludmila, Mary Lake, Michel de Hey, Tijana T, Toman, Traumer, Youandewan
Undrgrnd ·

Endless Records

John Doe
Amsterdam
Alex Sharp, Biia, BoHemian, Lino Fuso, R2RX

Universal Law of the Matrix

Westerpark
Amsterdam
Dr. Madimin
Vault Sessions ·

ADE Weekender

8

RADION
Amsterdam
Danny Deephouse, Grace Dahl, Impulse, Inhalt der Nacht, Løbster, Manni Dee, Stef Mendesidis, VSC, VSSR

VBX

BRET
Amsterdam
Christian AB, Mandana, Raphael Carrau, Reiss, Voigtmann
Verknipt ·

ADE Special

25

Warehouse13
Amsterdam
Benny Rodrigues, Darius Syrossian, Easttown, Eats Everything, Egbert, Franky Rizardo, Karim Soliman, Matador, Monika Kruse, Pleasurekraft, Portable Paradise, Secret Cinema, Spektre, wAFF

VIBE

Chicago Social Club
Amsterdam
Camourai, Claire Lyons, Cruzito, Deemz, KiddWonder, SMP
Vunzige Deuntjes ·

ADE Borrel

1

Amaze
Amsterdam
Ballantine, Dieux Pére, Dwinnah, Lee Millz

When The Freaks Come Out

2

Recycle Lounge Gallery Club
Amsterdam
Andre Zeldenrust, Buddy Suwijn, Rafa, TheKoosy
Women Of House ·

Anniversary Edition

Blend XL
Amsterdam
DiVine, First Lady, Lady Deep, Mercedes

gisteren, uitgaan op

40

tonen

Around Us Invites

Club NL
Amsterdam
Around Us, Fady Ferraye, Francesco Pico, Pedro Mercado, Ruby, T-Gray

Audio Obscura

17

RAW Factory
Amsterdam
Adriatique, Marino Canal, Mind Against, Nicky Elisabeth, Recondite, Stephan Bodzin

Awakenings × Exhale

75

Westergasfabriek, Gashouder
Amsterdam
Amelie Lens, Anetha, Farrago, FJAAK, I Hate Models, Raven, Rebekah, Speedy J

Boatchella

Supperclub Cruise
Amsterdam

Breakfast Club

7

RADION
Amsterdam
Ben UFO, Jaime Frias, Laurine, Marcel Dettmann, Mystery Guest, Pangaea, Paquita Gordon, Pearson Sound, Sanja, traumgarten

Circoloco × Loveland

9

Mediahaven
Amsterdam
Adiel, Alexia Glensy, Enzo Siragusa, Gerd Janson, Kobosil, Kölsch, Loco Dice, Mano le Tough, Marco Carola, Mind Against, Raven, Seinfeld, Seth Troxler, Sossa, TSHA

Curated by · Authentica, Melodic Room, Mind-Matter and TM&Y

1

Recycle Lounge Gallery Club
Amsterdam
19:26, Animal Picnic, Citizen Kain, Dizharmonia, ENAI, Miss Melera, Nakata, Olivier Weiter, Omar Khalifa, Rafael Cerato
De Marktkantine ·

ADE Special

1

De Marktkantine
Amsterdam
Adana Twins, Brina Knauss, Denis Horvat, Dodi Palese, EcHonomist, Lehar, matHame, Musumeci, VNTM
Diggers Factory ·

Acid Jack

YOLO
Amsterdam
Analog Kitchen, Chester Code, Fadoua Mae, Gettoblaster, Hatiras, Pierre, Rulex, Vikthor
elrow ·

Growenlandia

12

Kromhouthal
Amsterdam

Favela

AIR
Amsterdam
Balbino, Favela, FlexBoa, Gabriel Alves, In'it, Izzy Bizzy, Jaff, Kelvin Klein, Lucky Jones, Manall, Mara Wells, Mauri Santana, Mojo, Nomay, Sam Blans, Sergio Campana, Taykoo

From Miami to Ibiza

gratis

Prik
Amsterdam
Benjamin, Bryan Peroni, Luis del Villar, Yves Eaux

Fvck Genres

3

Club NYX
Amsterdam
Ardex, Crude Intentions, D-Sides, Dip Dem, Empira, Frontliner, Gerald Le Funk, Greentree, Inpulsa, Jeff, LNY TNZ, Luca Rezza, Mariana BO, RayRay, Ruthless
GDE ·

We all dance togther

Bar The Web
Amsterdam
Elliott Matos, Manny Ward, Terri B, The Gymbrothers, The Love Team

Identified Patient & Mad Miran

1

Melkweg
Amsterdam
Identified Patient, Mad Miran
InDeep'n'Dance ·

Meet & Greet

gratis

1

InDeep'n'Dance
Amsterdam
Dexon
Intercell ·

I Hate Models Invites × ADE Closing

14

H7 Warehouse
Amsterdam
Afra, Charlie Sparks, D.Dan, Hyperaktivist, I Hate Models, Somniac One
Joseph Capriati ·

All Day Long

1

BRET
Amsterdam
Joseph Capriati

Karotte all day long

4

Kaap Oost
Amsterdam
Karotte, Stefano Richetta

Laidback Luke & Friends

2

Jimmy Woo
Amsterdam
Bingo Players, Bougenvilla, Charmes, Djibril Cissé, Lady Bee, Laidback Luke, Mike Williams, Nick Raff, Refuse

Lone Wolf

Melkweg
Amsterdam
Delic x Huda, Eboman
Loveland ·

Pan-Pot All Night

17

Warehouse Houthavens
Amsterdam
Pan-Pot
NDSM Music ·

Mystery Guests

NDSM Studio
Amsterdam

OT301 Radio

OT301
Amsterdam
Adi-j, D-Monica, Power vs Power, Shug la Sheedah, Yke

Shelter

4

Shelter
Amsterdam
Héctor Oaks, IMOGEN, Richie Hawtin

Solid. Grooves

27

NDSM Loods
Amsterdam
Archie Hamilton, Chris Stussy, Dennis Cruz, Eats Everything, Eddy M, Fabe, Locklead, Mandana, Michael Bibi, Paco Osuna, PAWSA, Skream, Sota

SoSoSavage

Escape Club
Amsterdam
Irwan (nog niet compleet)
Soulful ·

House Special

25

Supperclub
Amsterdam
Ferreck Dawn, ROOG (nog niet compleet)
Strangelove ·

Job Jobse & KI/KI × All Day Long

Lofi
Amsterdam
Job Jobse, Ki/Ki
Suntree ·

Hangover Brunch

gratis

1

Casablanca
Amsterdam
Alan Luna, Derrick Mckenzie, First Lady, Lady Deep, Le Baron, Neil Templar, Oded Nir, Richard Earnshaw, Steve Taylor (nog niet compleet)

Suntree Records & Ritual Beats

Blend XL
Amsterdam
David Avril, First Lady, KB, Oded Nir, Raphaella Brown, Sudon, Templar

Super-Sonic Jazz

1

Paradiso
Amsterdam
Dragonfruit

Tale of Us

A'DAM Toren
Amsterdam
Colyn, Tale Of Us
The Seekers of Light ·

ADE Weekender

8

WesterUnie
Amsterdam
10 Mark DJ Team, Budakid, Change Over, Collé, Damian Lazarus, Franca, Geju, Heimlich Knüller, Jenia Tarsol, Kerala Dust, Kino Todo, Mâhfoud, Oliver Koletzki, Omer Tayar, Omri Guetta, Parallells, Smook

Thuishaven

5

Thuishaven
Amsterdam
Apollonia, Benny Rodrigues, Kasper, Kléo, Levon Vincent, Mendel, Philou Louzolo, Sandrien, Willow

Universal Law of the Matrix

gratis

Westerpark
Amsterdam
Dr. Madimin
Vault Sessions ·

ADE Weekender

7

RADION
Amsterdam
Amoral, Cleric, Comrade Winston, Endlec, Lucass P, Remco Beekwilder, stranger
VBX & SlapFunk ·

People in Love

Veronicaschip
Amsterdam
Doudou MD, Hamish & Toby, Reiss, Samuel Deep, Sugar Free, Z@P

VBX × Sunrise

3

Shelter
Amsterdam
Arapu, Cap, Ferro, Gescu, Priku

Vunzige Deuntjes

Bitterzoet
Amsterdam
DYLVN, Eddie The Host, Max Wallin', Rockefellababe, Vunzige Deuntjes, WEF
Slapfunk ·

Marathon Monday

1

BRET
Amsterdam

Know V.A. & Leeza Pritychenko

Melkweg
Amsterdam
Know V.A., Leeza Pritychenko

AMF

3
71

Johan Cruijff ArenA
Amsterdam
Afrojack, Armin van Buuren, Brennan Heart, David Guetta, Kapuchon, Nicky Romero, Tiësto, Timmy Trumpet, Topic

This Is Psychedelic

5

Amsterdam
Vandaag wordt officieel het startschot van ADE 2021 gegeven met het ontsteken van het kunstwerk BAKEN; een lichtpunt van hoop aan de horizon voor de elektronische muzieksector, dat vanaf het dak van de A'DAM Toren over heel Amsterdam zal schijnen tijdens het Amsterdam Dance Event.
Tijdens Amsterdam Dance Event (ADE) brengen lichtkunstenaars Boris Acket en Chris van Meer in samenwerking met Lumus Instruments een 'BAKEN' van licht over Amsterdam. Het topje van de A'DAM Toren schijnt als een vuurtoren, als een sein van hoop voor de nacht- en festivalsector. 'BAKEN' is te bewonderen op het dak van de A'DAM Toren tegenover Centraal Station in Amsterdam Noord. De lichtbron is te zien tijdens Amsterdam Dance Event (ADE) van 13 t/m 17 oktober, met een speciale openingsceremonie op 13 oktober. De verlichting is dagelijks bij zonsopgang en zonsondergang zichtbaar.
De organisatie van het Amsterdam Dance Event heeft, in samenwerking met clubs en festivalorganisatoren, meer dan 350 ADE Festival en Arts & Culture evenementen op 140+ locaties bevestigd, sinds het besluit van vorige maand om het evenement door te zetten. ADE 2021 vindt plaats van 13 t/m 17 oktober.
De mysterieuze man met het gouden masker en miljoenen fans, Claptone, komt voor zijn grootste ADE show ooit naar de AFAS live! Op vrijdag 15 oktober staat de muziektempel op de Johan Cruijff boulevard in het teken van The Masquerade.
De gele vlaggen wapperen eindelijk weer in onze hoofdstad. Dat kan maar één ding betekenen: het Amsterdam Dance Event staat voor de deur. Vanaf volgende week woensdag staat Amsterdam volledig in het teken van party's met de beste artiesten ter wereld. Dat het event populair is, blijkt uit de vele stijf uitverkochte feesten. Wie achter het net heeft gevist om zijn of haar favoriete artiest na al die tijd weer te bewonderen, heeft nu toch nog een extra kans op de ultieme party ervaring tijdens ADE. Desperados verstopt komend weekend op 9 plekken in Amsterdam in totaal 40 ADE Festival passen.
Amsterdam Dance Event, here we come! Op vrijdag 15 oktober neemt de hottest party van 't land voor het eerst de hoofdstad over tijdens de ADE special in Club Maïa Amsterdam! Verwacht een bomvolle club met de mooiste ladies, ijskoude drankjes, superstar dj's en alleen maar good vibes! Waan jezelf tot een echte Super Rich Kid & join the party.
Met het verplaatsen naar schatting meer dan 350 geplande evenementen naar de dag en avond, keert Amsterdam Dance Event weer terug in fysieke vorm, sinds het begin van de coronacrisis. In samenwerking met de gemeente, clubeigenaren en festivalorganisatoren heeft ADE de mogelijkheden om overdag te programmeren onderzocht en de organisatie is opgelucht dat het overgrote deel van het festival bevestigd is.
3
Audio Obscura is klaar om de heropening van de dansvloeren te vieren en kondigt drie events aan tijdens Amsterdam Dance Event 2021. De events vinden plaats op vrijdag 15 oktober van 16:00 tot 23:59 uur en op zaterdag 16 en zondag 17 oktober van 14:00 tot 23:59 uur. Samen goed voor een spectaculaire 28 uur durende programmering.
To celebrate the return of live music after an 18-month stint, Tiësto's label Musical Freedom will return to ADE for a special evening showcase at Amsterdam's Club NOVA on Saturday the October 16th. The evening will feature Musical Freedom's most talked about up and coming artists, alongside established DJs that represent the label's finely crafted reputation.
Nicky Romero verplaatst zijn inmiddels iconische showcase, Nicky Romero & Friends, van zijn label Protocol Recordings naar een eerder tijdstip. Het evenement, dat plaatsvindt in de Amsterdamse Escape, wordt vervroegd naar 18:00u en eindigt om middernacht. De dj is tijdens de showcase te zien met de al gevestigde namen van zijn label, ook neemt hij een aantal surprise guests mee.
22 opmerkingen
Klopt het dat Alesso op zaterdag 20 oktober niet meer komt in de escape
????
En zo ja....­ Is er dan een andere goede trace dj ervoor in de plaats gekomen??
Ik wilde namelijk zooooo graag naar Alesso.....­Speciaal vrij genomen en nu komt hij niet??????
is hardwell dit jaar er ook bij?
2 kaartjes te koop voor Kalkbrenner komende 20 oktober, zondag in de Gashouder.­ Originele prijs is 25 euro per ticket, voor 20 zijn ze van jou!
Wat kan je met een ADE Conference Ticket???
Ik zoek 2 kaarten voor zaterdag AMF wie o wie
Ik zoek 2 a 4 kaarten voor Amsterdam Music Festival, kan iemand me hier aan helpen??
Ik zoek nog steeds 2 a 3 kaartjes voor 18 oktober Amsterdam Music Festival, aub aub kan iemand mij hieraan helpen??
Die ADE kaart, wat ben je daar nu mee in feite? Weet iemand hier meer info omtrent? Krijg je korting op feesten?
Hier ben ik ook heel benieuwd naar en met ons vele andere volgens mij... Zit ook ff te wachten met het kopen van verschillende kaartjes. Al heeft Armada dit jaar Hardwell op de woensdag gezet, als die voorverkoop nou een beetje lekker gaat en ze hem naar de ziggo stoppen kan armada night gewoon in de HMH

Vanavond 21-10 rijd ik de hele avond voor € 25 per rit (max 4 personen) van Haarlem naar het Westergas terrein.­
Vanaf 5:30 zet ik het wekkertje om maximaal 4 personen per rit voor € 35 van Westergas naar Haarlem te brengen.­ Ja dat is inderdaad € 10 meer dan heen maar ik moet er ook wel fucking vroeg voor opstaan! Mail me voor info.­

Oh Ja, kotsende mensen betalen de ritprijs +­ € 200 schoonmaak- en irritatiekosten.­

Muziekverzoekjes kunnen ingediend worden!

Tot vanavond!