Afgelast
Afgelast
Afgelast
Afgelast
Afgelast
Afgelast
Afgelast
Afgelast
Afgelast
Afgelast
afgelast:
If It Were Love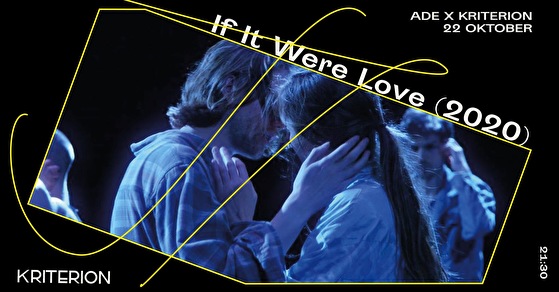 onderdeel van
Amsterdam Dance Event

Filmtheater Kriterion
(binnen)



Roetersstraat 170


Roetersstraat 170

, Amsterdam
5
bezoekers

@ 7 oktober 2020

56
geïnteresseerd

@ 7 oktober 2020

ADE x Kriterion: If It Were Love (2020)
As choreographer Gisèle Vienne tours Europe with 'Crowd', her newest dance piece on the 90's rave scene, at the core of her production we see fifteen young dancers, hailing from different origins. Following them from theatre to theatre, If It Were Love (Si c'était de l'amour) documents their work, as well as the strange intimacy growing between them. The line becomes blurry as the stage seems to contaminate real life—and vice versa. Starting as a dance documentary, the film grows into a troubling journey into our nights, our parties, our loves.

A special programme in light of this year's Amsterdam Dance Event, along with screenings of IDFA portrait Lil' Buck: Real Swan, and David LaChappele's documentary on krumping: RIZE.
→ lees meer
As choreographer Gisèle Vienne tours Europe with 'Crowd', her newest dance piece on the 90's rave scene, at the core of her production we see fifteen young dancers, hailing from different origins. Following them from theatre to theatre, If It Were Love (Si c'était de l'amour) documents their work, as well as the strange intimacy growing between them. The line becomes blurry as the stage seems to contaminate real life—and vice versa. Starting as a dance documentary, the film grows into a troubling journey into our nights, our parties, our loves.

A special programme in light of this year's Amsterdam Dance Event, along with screenings of IDFA portrait Lil' Buck: Real Swan, and David LaChappele's documentary on krumping: RIZE.

82 min | 2020 | France | French, with English subtitles
— Trailer, film stills, tickets: kriterion.nl/ifitwerelove