STIR it up
·
Ode to Hip Hop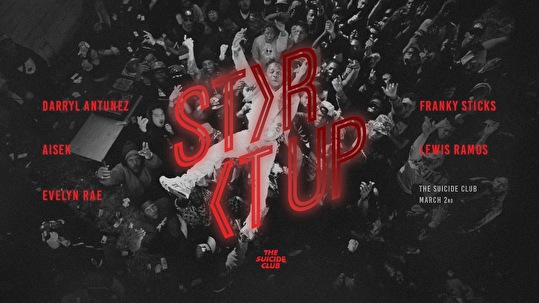 -
The Suicide Club
(binnen)


Stationsplein 45


Stationsplein 45

, Rotterdam
Tickets
STIR it up
Gratis entree!
2
geïnteresseerd
85
bezoekers

@ 28 februari 2019

384
geïnteresseerd

@ 28 februari 2019

493
uitnodigingen + geïnteresseerd + bezoekers

@ 9 september 2020

STIR it up > Ode to Hip Hop
On March 2nd we're back with a new edition of STIR it up.

This time we will celebrate Hip Hop!
Enjoy the night with music from our local and international Hip Hop hero's like: Kendrick, Extince, Zwart Licht, J Cole, B.I.G, Mos, Common, Kanye, Travis Scott, Opgezwolle and many more..
→ lees meer
On March 2nd we're back with a new edition of STIR it up.

This time we will celebrate Hip Hop!
Enjoy the night with music from our local and international Hip Hop hero's like: Kendrick, Extince, Zwart Licht, J Cole, B.I.G, Mos, Common, Kanye, Travis Scott, Opgezwolle and many more..

Line up:
Darryl Antunez
Frank Stok aka Franky Sticks
Aisek
Evelyn Rae
MC Lewis Ramos

Artwork by Erico Smit