Kingsday Boat Party
·
ISN Amsterdam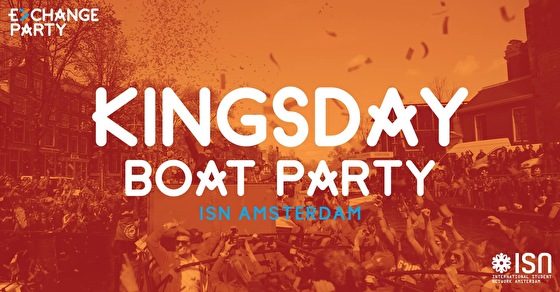 georganiseerd door
Exchange Party Amsterdam

Tickets
Kingsday Boat Party
Uitverkocht
Line-up
Kingsday Boat Party

Kingsday Boat Party - ISN Amsterdam
ISN Amsterdam x Exchange Party

!! The presale starts Wednesday February 6th at 12:00 !!

On the 27th of April the country is turning orange for Kingsday. In Amsterdam there is no better way to spend this day than on the canals! Come along and join the ISN Amsterdam & the Exchange Party for a Kingsday boat party on the canals of Amsterdam!
The boat fits 75 people, has a proper soundsystem, onboard toilet, great music and drinks are UNLIMITED! Of course the boat will go where the party is at - the (inner)canals of the city center.

3 hours on the canals with unlimited drinks
Open canal boat with a capacity of 75 people
Unlike many boats, we're allowed in the inner canals
Onboard toilet
Proper soundsystem
→ lees meer
ISN Amsterdam x Exchange Party

!! The presale starts Wednesday February 6th at 12:00 !!

On the 27th of April the country is turning orange for Kingsday. In Amsterdam there is no better way to spend this day than on the canals! Come along and join the ISN Amsterdam & the Exchange Party for a Kingsday boat party on the canals of Amsterdam!
The boat fits 75 people, has a proper soundsystem, onboard toilet, great music and drinks are UNLIMITED! Of course the boat will go where the party is at - the (inner)canals of the city center.

♛ 3 hours on the canals with unlimited drinks
♕ Open canal boat with a capacity of 75 people
♛ Unlike many boats, we're allowed in the inner canals
♕ Onboard toilet
♛ Proper soundsystem

We have 3 shifts:
Shift 1: 10:00 - 13:00
Shift 2: 13:00 - 16:00
Shift 3: 16:00 - 19:00

Tickets cost €40 for the morning shift and €45 for the afternoon shift. This event is always in high demand and space is limited. Make sure to be ready when presale starts.
The presale starts February 6th at 12:00.