Queer is not a Manifesto Afterparty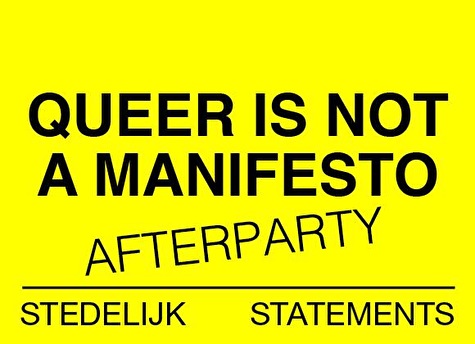 -
Radio Radio
(binnen)



Pazzanistraat 3


Pazzanistraat 3

, Amsterdam
2237
uitnodigingen + geïnteresseerd + bezoekers

@ 9 februari 2019

Queer is not a Manifesto - Afterparty
Stedelijk Statements | Queer Is Not A Manifesto
→ lees meer
*OFFICIAL AFTERPARTY*
Stedelijk Statements | Queer Is Not A Manifesto
QUEER IS NOT A MANIFESTO is
www.queerisnotamanifesto.com
and a series of live events in which queer artists, queer scholars, queer activists and a multitude of other queer voices present what queer means to them.
Come and celebrate queer mess with us as we blow off steam, make out in public and occupy spaces for our queer pleasure!
//

\
QUEER IS NOT A MANIFESTO is a safe space: racist, sexist, transphobic, homophobic, biphobic, femme phobic, ageist, ableist, classist, xenophobic, antisemitism, islamophobia, homonormative or oppressive behavior or language of any kind will not be tolerated. We reserve the right to deny space to anyone who breaks these principles.
Please read full Safe(r) Space regulations so well worded by our colleagues from Radical Queer Resistance:
https://bit.ly/2AR5OFt
LINE UP:
DJ Hajar
Fitgirl
DJ JXSSX
PERFORMANCE:
MC Mustaj
Giorgio Ventura
The Wulftwinz
Pia Vapeur