Naam
José Gonzalez
Functie
DJ, live act, producer
Geslacht
man
Herkomst
Spanje
Genres
hardcore
Site
djwastedmind.com
E-mail
info@the-wishlist.nl
Aanwezigheid
Affiliaties

2

Lid

Wasted Mind

(16 apr 2015)
Biografie
Wasted Mind
is a Spanish hardcore DJ and producer from Toledo.
Uitgaansagenda Wasted Mind
Decibel Outdoor Festival

2
1681

Beekse Bergen
Hilvarenbeek
Abaddon, Adaro, Alee, Angernoizer, Artifact, Audiotricz, B-Front, Barber, Bass Chaserz, Bass-D, Bike, Bountyhunter, Chris One, Chucky, Coone, Cryex, Crypsis, Crypton, D-Attack, D-Fence,

en nog 68 andere artiesten →

Da Mouth of Madness, Da Rick, Da Syndrome, Dark-E, Darkraver, Democian, Destructive Tendencies, Dimitri K., Dione, Dither, Dozer, DRS, E-Noid, Element, Francois, Frequencerz, Geck-o, Genius, Genox, Greg C, Hard Driver, Headhunterz, Jappo, Josh & Wesz, Juliëx, Killshot, Kruelty, Lars, Livid, Luminite, Luna, Mad Dog, MYST, Neroz, Odium, Panic, Paul Elstak, Phuture Noize, Ran-D, Rebelion, Regain, Rejecta, Requiem, Restrained, Reza, RG, Ruffian, Ruffneck, Ruthless, Scarphase, Scarra, Scott Brown, Sjammienators, Slim Shore, Sound Rush, Spitnoise, Stanton, Sub Sonik, Tatanka, Tha Playah, The Dark Horror, The Purge, The Viper, Udex, Uzi, Villain, Voidax, Wasted Mind
86 opmerkingen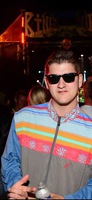 Hij moet meer nummers maken zoals Strange
ik vind ze allemaal kneiters

great jose'! your works are massive!!
despite you & go boom
zwaar goed te doen

Im a great fan of your music! Keep on going
Me to,This music keeps you movin,and give you a lot of goosebumps,Wasted mind

Me nieuwe held





Naaa niet normaal hoe erg ik naar zijn setje uitkijk op Masters of hardcore zaterdag!

Beste set van Dominator 2013!!!
Uitspraak

van verwijderd op dinsdag 12 juli 2011 om 10:52:

You're the best man!!
agree
My fav dj.­ Awesome tracks! Looking forward to see you at HDE and Fucking bastards!!!
Waarom niet op dominator?