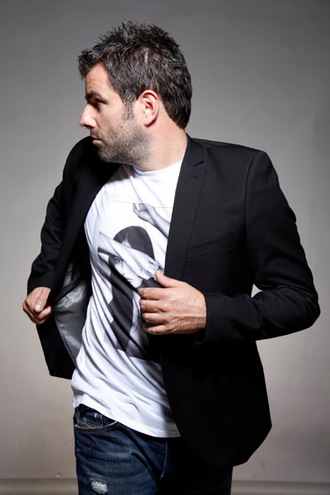 Biografie
Pete Gooding is a club DJ, music producer and radio presenter, but way beyond any name or title he's a music fan. In fact, Pete is a Music Man. Thanks to his broad musical taste, deep musical knowledge and boundless energy and enthusiasm, he's one of the lucky few who have managed to turn 'what I love' into 'what I do'. Pete does music full time, full on, all the time.
Take a quick look at his current list of globally happening projects and it's not hard to see why 2011 is going to be Pete's year.

Doman & Gooding
The Machine
The Global Network radio show
No Logo
Gooding & Coco

At the heart of these good things is his fruitful production partnership with James Doman.
Doman and Gooding have already had a hit in Canada and the UK with the club anthem Runnin', it's still on rotation on dance radio and MTV and has over 1.8m hits on Youtube.
The super-hooky follow-up, I'm Hooked On You, is set to be even bigger.
Cool club tunes are handled by the duo's alter-ego The Machine who have already released on Size, Audio Therapy and Stereo Productions, three of today's biggest and best dance imprints.
Pete and James have also set up a label called Superficial Recordings, as a joint venture with dance music giants Strictly Rhythm.
Pete lives right at the centre of all things clubby, in Ibiza, where he plays regularly for We Love at Space and at the coolest bar on the island, Café Mambo. James lives in Los Angeles. So when they're not working together, and when Pete's not on one of his regular trips round the world DJing, he still manages to fit in a few extra collaborations to satisfy his insatiable desire for, yes, you guessed it, more music. For example, he's currently working with chill out don Afterlife on the No Logo project and with Chris Coco on some space disco.
If you need even more musical energy, there's his weekly Global Network radio show, now on over 90 stations worldwide.
With all that going on it's hard to imagine how Pete has time for human stuff like sleep. Perhaps the dude is less of a music man and more of a music machine.
Uitgaansagenda Pete Gooding